PES 2021 is now available for pre-order on the PSN Store and via the main menu in PES 2020. While the standard edition has been up for a few days, most fans will probably want to get a Club Edition version of the game seeing as it is actually cheaper than the standard edition and you get 1000 more myClub coins. However the biggest reason to get the Club Edition version is for the Iconic Moments player that is tied to each specific club. 
With a guaranteed player of your choosing, it's a no brainer to choose the superstar you want for the year. Here are the players you get with each respective Club Edition pre-order:
Arsenal Club Edition – Dennis Bergkamp
Barcelona Club Edition – Lionel Messi
Juventus Club Edition – Cristiano Ronaldo
Bayern Munich Club Edition – Oliver Kahn
Manchester United Club Edition – David Bekcham
Picking a player from the above 5 superstars is no easy task so we have brought in myClub expert PESEP (Twitch.tv/peseplive) to go through each Iconic Moment player. With a quick description and some insight into what each player will bring to your Day 1 myClub squad, maybe it will make your choice that little bit easier! First up, we have the iceman.
_______________________________________________________________________________________________________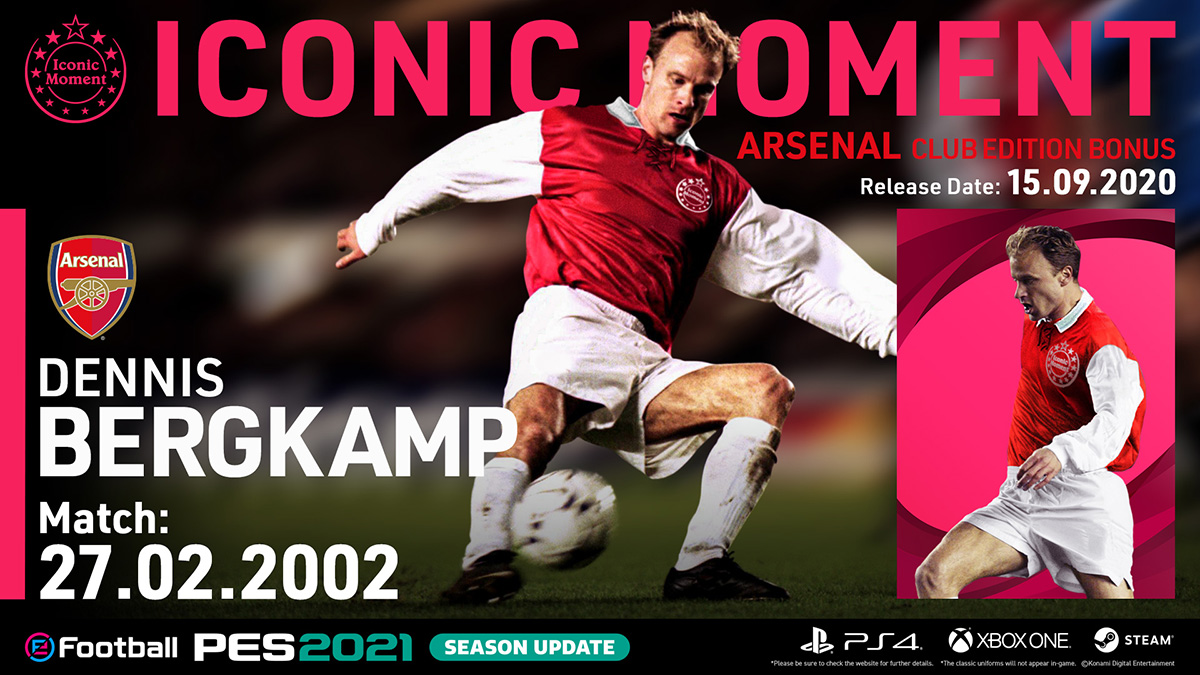 Bergkamp won't be the the fastest striker in the game but his incredible dribbling, ball control and finishing stats are up there with the best. As in real life, Bergkamp relies on patient build up from his midfielders so his positioning is always good. His Player ID is quite impressive also as he boasts an assortment of key skills and has the 'Creative playmaker' playing style. However, does his speed let him down and is he viable on myClub?
Bergkamp's card is based on his performance against Bayer Levekusen in which he scored an absolutely audacious lob. You only need to check on YouTube for dozens of spectacular highlights. The Netherlands star had it all. Bergkamp's Iconic Moments card in PES 2020 maxxed out at 96 overall but I think he will get a slight upgrade here for the launch of PES 2021. If his speed gets a little buffed, Bergkamp could become even more deadly online. But is it enough to get the Arsenal Edition?
PESEP – "A lot of good legends are not effective on myClub. But really, I need to review Dennis?! Behave yourself! Play him as a hold up striker with someone speedy beside him"
Auto shielding is so OP. However, slow dribbling is not the most effective weapon of destruction on 5 star myClub war. Bergkamp should only be picked up if you are huge Arsenal fan. Or if you have a soft spot for one of the best players to ever play but in terms of speed and precision, there are better options available for up front. 
PESEP RATING – 8/10
_______________________________________________________________________________________________________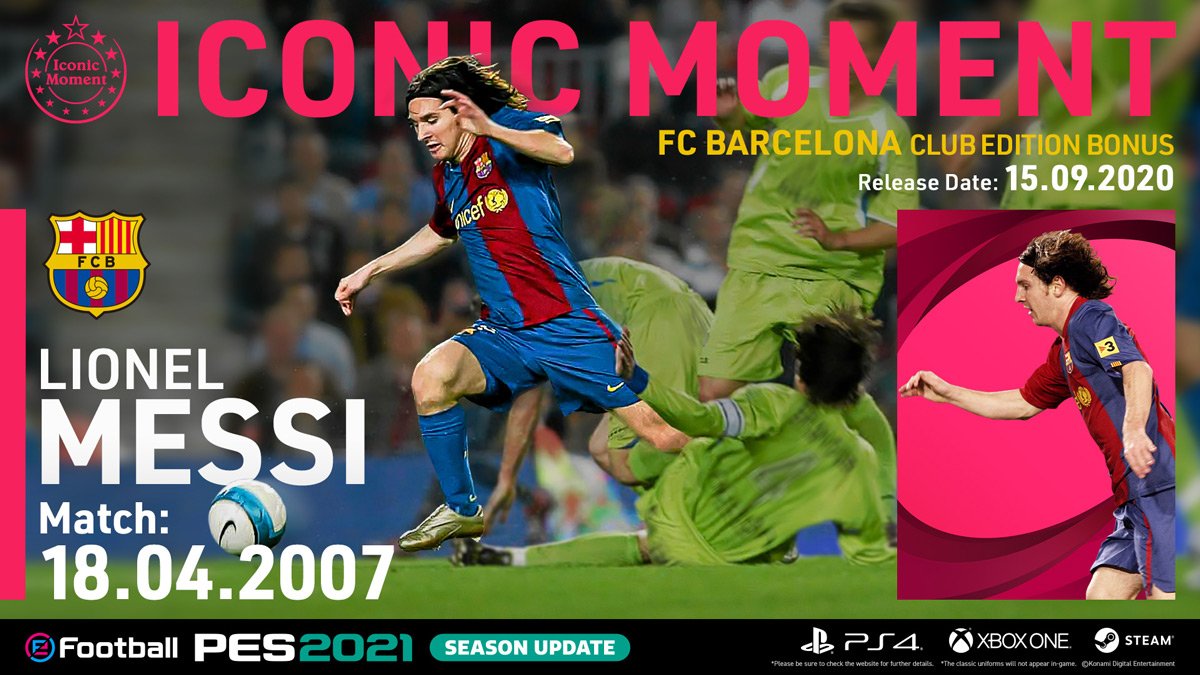 Lionel Messi is arguably the greatest footballer of all time. He's the perfect footballer in terms of technique. With best in class dribbling, passing and scoring, Messi can boast to be the most naturally gifted footballer of all time. Over the years, he has improved in nearly every area including free kicks and pressing as he has adjusted to different roles under various managers.
In PES 2020, Lionel Messi has some great cards with his most recent Featured card seeing him max out at 100 overall. With 8 stats that are 98+ including ball control, tight possession and finishing, Messi is the perfect player for those who play 1-2 football. Pass and go play (the most effective type of play in PES 2020) is where Messi shines in real life and in PES.
This Iconic Moment Messi card is based on his performance against Getafe 13 years ago and in particular his memorizing goal in which he dribbled from midfield and slotted home after taking on 5-6 defenders. Expect this card to be one of the best in the game and once maxxed out, it will easily be 98+ overall. But is Messi worth getting Day 1? 
PESEP – "When you use him like Messi, he will be Messi for you in PES 2021"

"Full speed, ankle breaking dribbling with great acceleration. Just don't try to take on big guys shoulder to shoulder while STATIONARY"
PESEP RATING – 10/10
_______________________________________________________________________________________________________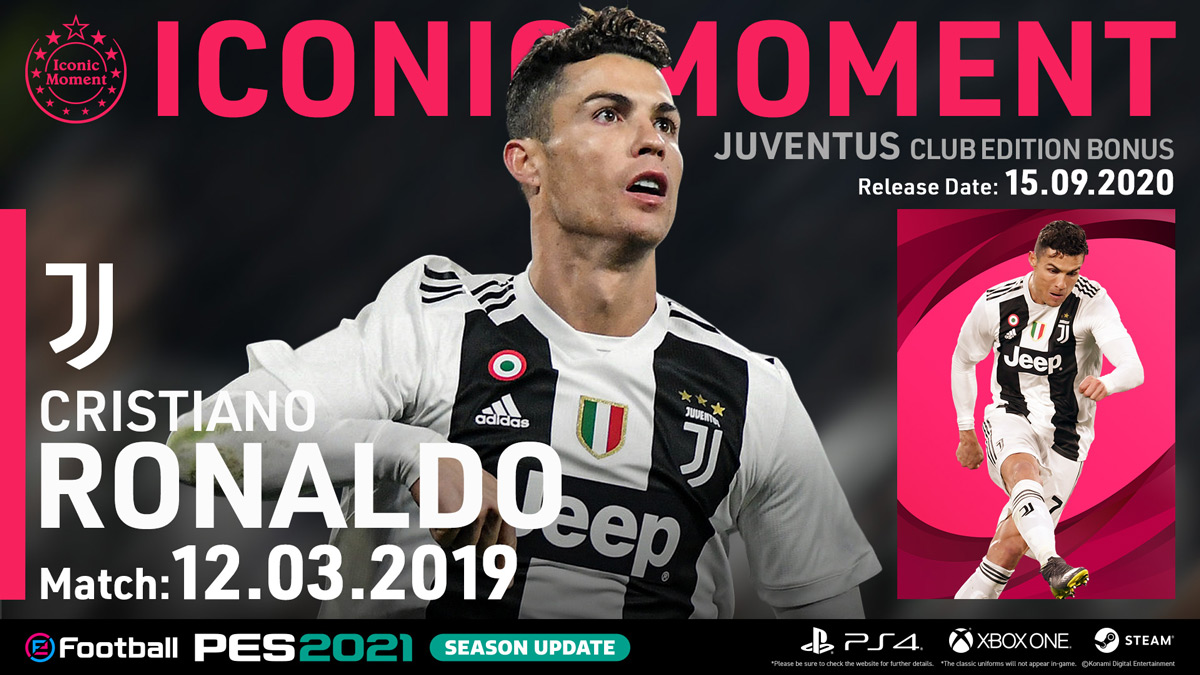 Speaking of greatest footballers of all time, Cristiano Ronaldo is ALSO arguably the greatest of all time. How lucky have we been to have both these players compete against eachother for the last 15 years? Ronaldo is the epitome of a modern day athlete with speed, power and incredible precision. He is probably the most consistent footballer ever so it makes sense why he is so unstoppable in PES.
With multiple versions of Featured Ronaldo in PES 2020 already giving us a taste of what to expect in PES 2021, it makes sense that this Iconic Moment card will be among the very best cards in the entire game. With nearly maxxed out dribbling, shooting, balance and heading, Cristiano has almost no weakness. Ronaldo's card is based on his brilliant performance against Atletico Madrid in the Champions League last March in which he scored a hat trick so this could very well be the most dominant player we see on myClub in PES 2021. 
Ronaldo's play-style translates so well in PES because the game rewards fast and powerful players. Apart from Rumminege or Mbappe, Ronaldo has no equal in PES 2020. Will this be the same in PES 2021?
PESEP – "The complete myClub PES 2021 attacking player. Height. strength, speed and power."

"Easy to play with and should score for fun once you get a formation that suits him."
PESEP RATING – 10/10
_______________________________________________________________________________________________________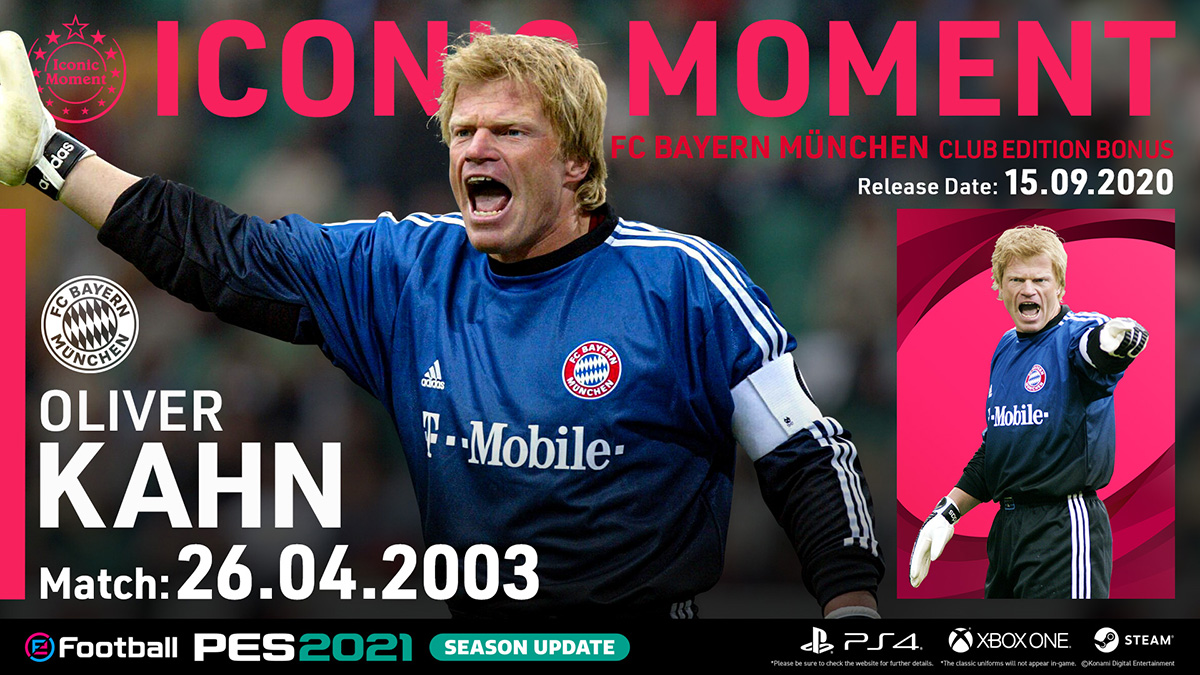 Oliver Kahn might seem a hard choice when comparing him to Ronaldo or Messi in myClub but here at PESUniverse, we have a soft spot for the German stopper. Sure, a goalkeeper might not be as exciting as getting a top class striker but if you pre-order the Bayern Munich Club Edition, Kahn will probably be your No.1 goalie for the entire myClub year. 
With 8 form and max goalkeeping stats, Kahn is a monster between the posts in PES 2020. But is he worth getting over the other star Iconic Moments players?
PESEP – "Regardless of his incredible abilities when looking at the stats, he lacks the glitz that other Club Edition players offer."

"There will be other goalies in PES 2020 that can more than do the job"
PESEP RATING – 7/10
_______________________________________________________________________________________________________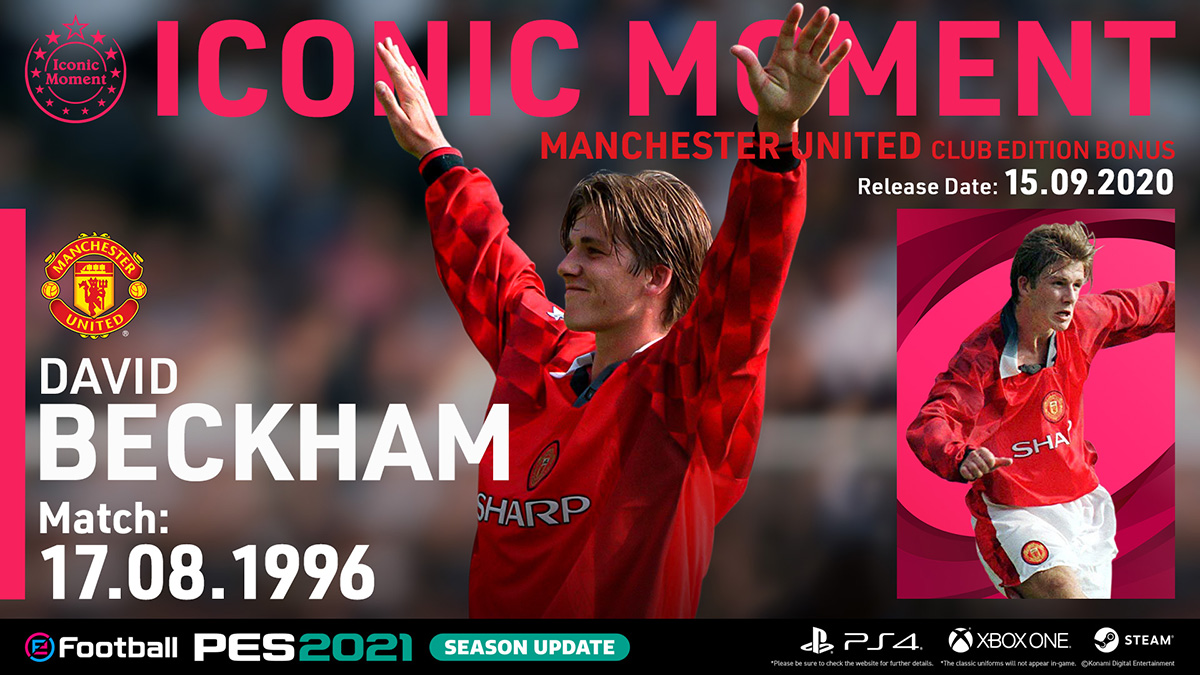 David Beckham is still one of the most popular footballers on the planet and for good reason, a LOT of people will choose to pick up the Manchester United version based on the fact that they can get Backs for another year of myClub. 
With a card based on his performance against Wimbledon on the 17th of August 1996 in which a 21-year old Beckham scored a spectacular goal from the halfway line. Many United fans will remember that epic goal but Becks has had a long history of big moments and a great storybook of highlights.
Currently, Beckham is one of the best players in PES 2020. Most players use him in a central midfield role as he is one of the most complete players in myClub especially once you max him out. Well worth a shot but is he good enough for myClub?
PESEP – "Beckham is one of my favourite players so i am a little biased through him, however he is worth getting for his set pieces alone"
PESEP RATING –  9/10