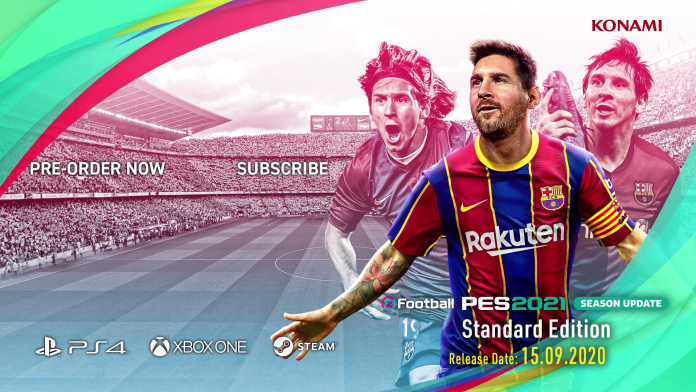 PES 2021 has been officially announced.
Yesterday, we had confirmation that Konami were already working on a next gen PES game for 2021. We even got a classy teaser trailer that showcased that future next gen PES titles would be making the switch from FOX Engine to Unreal Engine. A move which could be game changing for the franchise. 
Along with the trailer, we also got out first official information regarding this years release; PES 2021 – which provided some great insight before today's unveil. 
"We have made the decision to launch this year's PES as a streamlined offering in the form of a "season update". That being said, we are still extremely confident that this year's game offers fans more than enough thrills to tide them over until our next gen title is ready for launch.
This year also marks a quarter of a century since the very first PES title was released. To commemorate this important milestone, and more importantly, to show our gratitude to you, our loyal fans, we are pleased to announce that this year's PES will launch at an affordable anniversary price & will also come with several bonuses." – KONAMI via YouTube
PES 2021 will be a 'Season Update' with slightly tweaked gameplay from PES 2020 but with new squad and kit updates. To coincide with 25 years of PES, PES 2021 will be tying in with the 25th anniversary celebration and retailing for £25/€25, gamers who have played PES 2020 will receive a discount if they purchase the game through PES 2020 itself. 
There will be ton of special bonuses for myClub players including the return of the Veteran Bonus which rewards players who have played PES 2020 and completed in game milestones. The bonuses you receive will be based on the milestones you achieved while playing PES 2020's myClub mode, and will be available in-game when the next PES title launches this year.
・ Number of Iconic Moment Series and Legend players owned.
・ Number of matches played in Matchday mode.
Users must use the same profile across games. 
PES 2021 will be released physically (cover stars have not been confirmed yet) and digitally. PES 2021 is its own game, it is not DLC. We also know that AC and Inter Milan will not be licensed in game. 
AC Milan License Loss & Inter Milan License Loss
There will also be Club Editions which will come with special perks: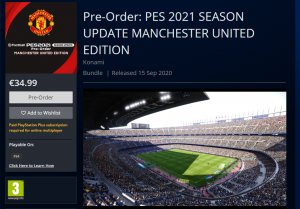 *Get 20% OFF by purchasing through the in-game announcement in eFootball PES 2020.
Purchase this edition and get the following Manchester United content:
• 'Iconic Moment Series' x 1 player
• Full squad (manager and players)
• Digital kit
• Original in-game menu theme
• PS4 menu theme & avatar
Each Club Edition also contains the following myClub content:
• 3 Player Contract Tickets x 30 weeks
• Premium Agent x 30 weeks
It also contains the following purchase bonus:
• 3000 myClub Coins